---
Biography
Asaf Durakovic
Medical Research Director
Dr. Asaf Durakovic, MD, PhD, DSc, FACP, is professor of Nuclear Medicine and Radiology and a specialist in all aspects of nuclear and radiation medicine. He has 35 years research and clinical experience on radioisotopes including strontium, uranium, and plutonium. His extensive experience includes research into nuclear disaster medicine in the U.S., Canada, Europe, Middle East, and Asia. He has published over 75 scientific papers on the medical effects of radiation and radioactivity. Post-doctorate Fellowship, British Medical Council, Harwell, Oxfordshire, England Post-doctorate Fellowship, National Research Council of Canada, Ottawa. Dr Durakovic assisted with The Children of Chernobyl Project, Hadassah University, Jerusalem. Former Head of the Department of Nuclear Medicine, King Faisal International Specialist Hospital, Riyadh, Saudi Arabia. He has given over 250 international invited lectures. He served as the United States Medical Team Leader in the American-Soviet Joint Nuclear Verification Experiment in Soviet Central Asia. He presented his expert views before the Congress of the United States, European Parliament, and both houses of Parliament of Japan. Laureate of the International Peace Prize Jaipur, India, in 2004.
Dr. Durakovic originally described the Gulf War Syndrome in both military and civilian population of Iraq. UMRC field teams at his initiative were deployed in Iraq, Afghanistan, Balkans, and Gaza to study the effects of radioactive weapons in both civilian and military populations. Current sustained research is focused on both somatic and genetic effects of internal contamination of the human population and biosphere with organotropic radioactive isotopes with special emphasis on transuranic elements.
---
Awards
Nuclear-Free Future Award
2004: Jaipur, India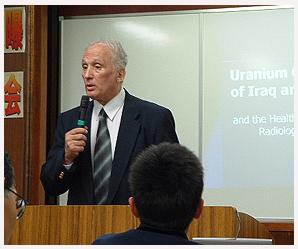 A waste product of the uranium enrichment process that produces greater concentrations of U-235 to fuel nuclear reactors and arm nuclear warheads, depleted uranium (DU) typically contains about "99.8 percent U-238, 0.2 percent U-235, and 0.0006 percent U-234 by mass." (WHO) As an unwanted waste product of the uranium enrichment process – there are more than 2 million tons of DU in the world – it is made available to arms manufacturers cheap or even free of charge. The public first became aware of DU during the 1991 Gulf War when the US military used munitions cased by some 300 tons of DUalloy to destroy 4,000 Iraqi armored vehicles. The tank-killer par excellence was the infamous A-10 or "Warthog" aircraft with its guns that can spew up to 4,000 DUrounds a minute. (Philip Berrigan: "In a battlefield context, Warthogs are arguably the most devastating weapons system yet fashioned. Even in the company of other terrible engines of war, they are a monstrosity. Imagine one of them strafing a village: It makes a pass and leaves a trench – people dead, buildings blasted, trees and vegetation splintered, the air, soil, and water infected with radioactivity. The Warthog is an engine of hell. It has no right to exist.").
---
Abridged CV
Other Academic and Professional Qualifications
International Honors and Degrees
Awards
Professional Licenses
Invited Lectures
List of Publications
Journal Abstracts and Proceedings
Books and Manuals
Journal Articles
Medical Qualification
---
Other Academic and Professional Qualifications
---
Read & Listen
Despite Continuing Threats, DU Expert Pushes on with Pursuit of Truth, Brian Covert, Kyoto Japan, 2007
An Interview with DU Expert Dr. Asaf Durakovic, Banned Terms,  Brian Covert, 2004
Democracy Now Interview with Dr. Durakovic – DU in Iraq, 2003 (Article)
Democracy Now Interview with Dr. Durakovic – DU in Iraq, 2003 (Audio)
New Concepts CBRN Warfare in Light of Gulf War Experience & Current Reality of Global Terrorism, A. Durakovic, 2002
The NI Interview – Fighting on Behalf of American Gulf War Vets, Felicity Arbuthnot, 1998